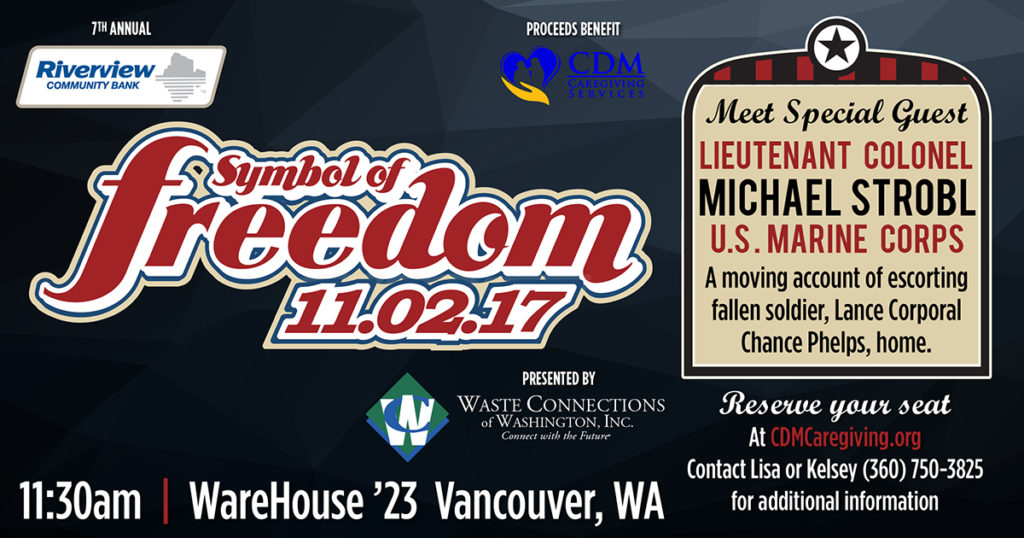 Meet 2017 "Symbol of Freedom" Special Guest- Lieutenant Colonel Michael Strobl, USMC
This is a two-event series, designed to elevate knowledge of CDM Caregiving Services. Theses events are centered around Veterans Day to provide an opportunity to recognize and honor our Nation's veterans.
Our special guest speaker will bring his story of escorting fallen Lance Corporal Chance Phelps home to Dubois, Wyoming. Mr. Strobls' story of the spontaneous outpouring of support and respect for the fallen Marine, is certain to move every patriotic citizen in attendance.
---
The VIP event on November 1st is a more intimate gathering with Lt. Col. Strobl at the Artillery Barracks on the Fort Vancouver National Reserve and offers an opportunity to personally meet our special guest. The ability to have a quick chat, photo or autograph with Mr. Strobl will also be available. This event has limited space and tickets sell out quickly.
VIP Reception
November 1st Artillery Barracks 5:30 PM

---
The luncheon on November 2nd will be served at WareHouse 23 and will feature motivational words from Mr. Strobl on the kindness and respect given by strangers. Luncheon begins at 11:30AM doors open for check-in at 11:00AM
Symbol of Freedom Luncheon Event
November 2nd at Warehouse 23 11:30AM
November 1 and November 2, VIP Package (Both Events)
CDM holds strong to their commitment to the community by providing services fulfilling their mission of keeping the elderly and disabled in their own home for as long as possible, this includes many Veterans as well as others of all ages.
For any questions please contact Lisa Capeloto or Kelsey Castrey at (360) 750-3825