The "Aging with Dignity" Capital Campaign will provide a customized facility for Adult Day Services, Home Care, and other supportive services for the elderly and disabled in Clark County.
WHO WE ARE:
Founded by community volunteers in 1978 on the belief that everyone: young, old or somewhere in between needs a little help sometimes. Our caregiving services are tailored to the unique needs of each person and family. Our goal is to help everyone remain where they want to live – in their own home.
CDM Caregiving Services is a 501(c) (3) organization dedicated to community partnership, empowering individuals and families, and preserving dignity and choice.
CDM is recognized as one of Clark County's top 50 employers, employing almost 250.
CDM currently operates an Adult Day Center in downtown Vancouver, and was forced by budgetary concerns to consolidate their home care and administrative functions into this same building.
CDM is embarking on the "Aging with Dignity" Campaign strategically locates a Clark County Adult Day Program to better serve our aging and growing population.
PROJECT SCOPE:
To create a purpose-driven Center that meets the growing demand for Adult Day Services and other supports for the elderly and disabled in Clark County.
THE CHALLENGE:
For over 35 years, CDM Caregiving Services has been fulfilling its mission to "bringing assisted living home". It is estimated that the population of residents over 70 will double in Clark County over the next ten years as the baby boomers are aging; in addition, the incidence of disabilities in children and adults is rising due to chronic diseases, motor vehicle accidents, war injuries and other causes.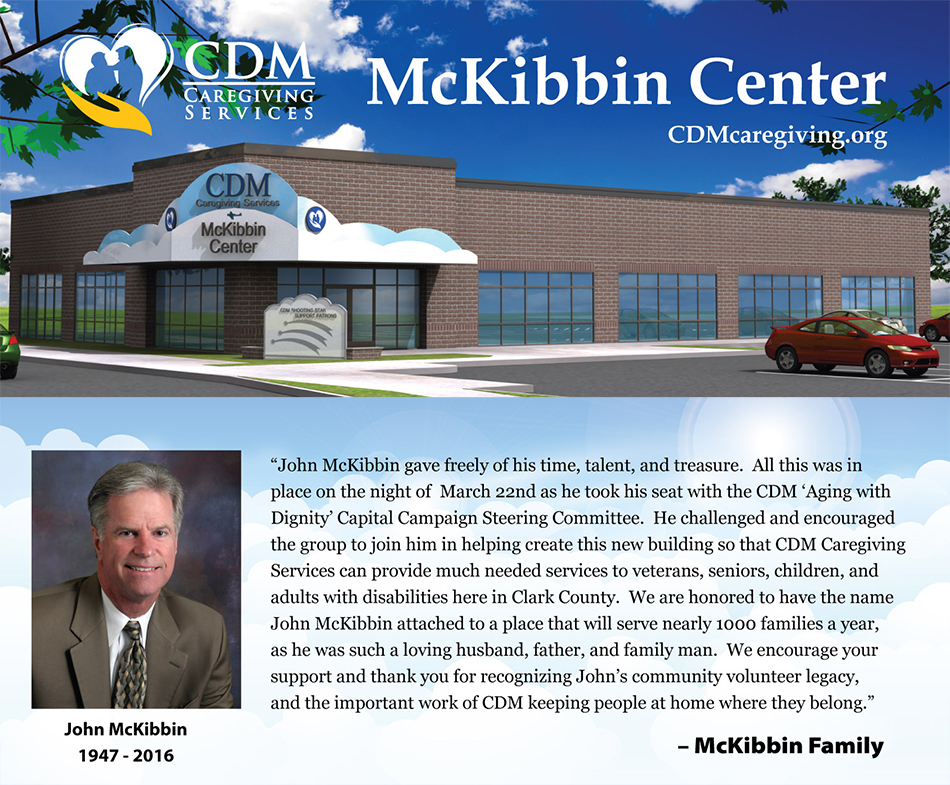 What Can You Do To Help?


There are five levels of "Shooting Star" that will be memorialized on the monument just steps from the entrance of the CDM Caregiving Services McKibbin Center:
★ Level 1: $500 – $999 ★
★ ★ Level 2: $1,000 – $2,499 ★ ★
★ ★ ★ Level 3: $2,500 – $4,999 ★ ★ ★
★ ★ ★ ★ Level 4: $5,000 – $9,999 ★ ★ ★ ★
★ ★ ★ ★ ★ Level 5: $10,000 and above ★ ★ ★ ★ ★
To make a donation in any amount, please click the Donate Now button below:

THE "AGING WITH DIGNITY" CAMPAIGN: CDM Caregiving Services has completed a feasibility study that includes outreach to community members as well as local and regional foundations. We have completed Phase 1, property acquisition. Phase 2 includes construction and build out of the main floor Adult Day Center, as well as second floor administrative and program offices. We have $1.2 million of support from the FY 2015 Capital Budget.
STATUS: CDM is currently designing the most effective facility for on-site services for an exploding aging and disabled adult population, as well as providing professional at home care as an alternative to costly long-term institutional service models. Home and community based services such as these have saved the State hundreds of millions of dollars versus institutionalized care, and our services will continue to be the most cost effective option for families, the State of Washington and the Veterans Administration. Donor and philanthropic support continues to grow for the "Aging with Dignity" Capital Campaign.
FOR MORE INFORMATION: Eric Erickson, Executive Director, CDM Long Term Care Services 360.896.9695; Mike Wilson, Westby Associates, Inc., 360.750.3825; 360.606.2603.